The MuscleGun impact massager was voted number 1 in the UK by Men's Health Magazine and is popular with Olympic triathletes like Alistair Brownlee, weightlifter Sonny Webster and crossfit athlete Louise Hawkins. So I think the answer is probably yes!
The device is versatile, very portable and I don't think you need to be an athlete to use it, it would be great for everyone who is affected by pain and tension. Think that's about 99% of the population.
So How Does a Massage Gun Work & Where Can You Use It?
It's perfect for reducing inflammation which can happen to muscles by overtraining and especially if you are not stretching as much as you need to. By using a percussive massage device, the repetitive high powered strokes also help to break down any existing scar tissue, persisting inflammation or muscular swelling. Furthermore, extracellular fluids such as venous blood and lymphatic fluid are flushed away from the muscle tissue and into the body's circulatory system. This drainage of toxic fluid enables muscle fibres to repair quicker and reduce any associated swelling, tension and pain.
The same effect is achieved by a deep tissue massage, which is a very common and well scientifically researched practice.
The benefit of using a MuscleGun device is that it achieves the same results in 5 minutes as a professional masseuse would in 20 minutes, offering instant relief to tight and tired muscles, without the expense or the inconvenience.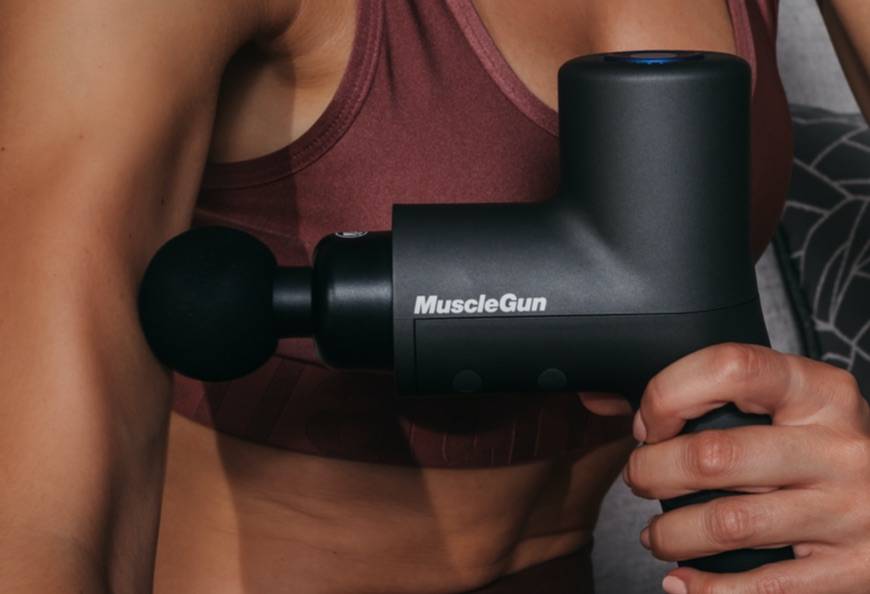 These clever massage devices help relieve pain and tension in a targeted manner. By delivering 3,200 high-frequency, noiseless beats per minute, pain is immediately relieved in less than 5 minutes. One of the most common areas we get pain is our lower back and sciatic area.
Sciatica pain is caused by compression of the sciatic nerve which runs from your lower back to your feet. Using the MuscleGun high powered repetitive strokes, it is possible to increase blood flow and oxygen to the muscles surrounding the sciatic nerve and help release the associated tension and pressure. I've been using mine regularly and can feel the blood rushing to that area which does start to reduce the pain almost instantly. I start off in one area and 15 minutes later I am moving around my legs and always end up around my shoulders, it's great for tension build up there.
What's great about the Musclegun is the website has so much information on how to target pain and treat each muscle group after training, it's a really helpful guide. I have recommended so many friends to get one since trying this one out myself, it's an essential bit of kit if you training a lot or just feel like you need a massage every week and can't afford one!