There has been so much research linking sleep to our mental health, as well the more obvious health issues that can emerge if you do not place importance on getting a good night's sleep. A great book to read about how sleep can affect so many aspects of our health is Why We Sleep by Matthew Walker. It's a fascinating read and if anything is going to make you look at why getting those 8 hours a night is crucial to a happier, longer and healthier life this is it!
A comfortable mattress and pillow are essential, and we all love something different, some of us love a firm mattress and others just want to sink into a cloud of marshmallow. I am obsessed with finding the perfect pillow, so I was already a fan of Tempur pillows, but I had never tried out their mattresses until I went in-store and I had the most comfortable lie down and chat with Marvin in their Westfield store. Each Tempur mattress feels so good, with just slightly different details and the amazing thing is you can try them out at home for 100 days and return if you aren't happy. Seriously don't know how anyone would send one of these heavenly mattresses back, I asked Marvin if anyone had, and you guessed the answer to that one. You can find the nearest place near you to try them out here.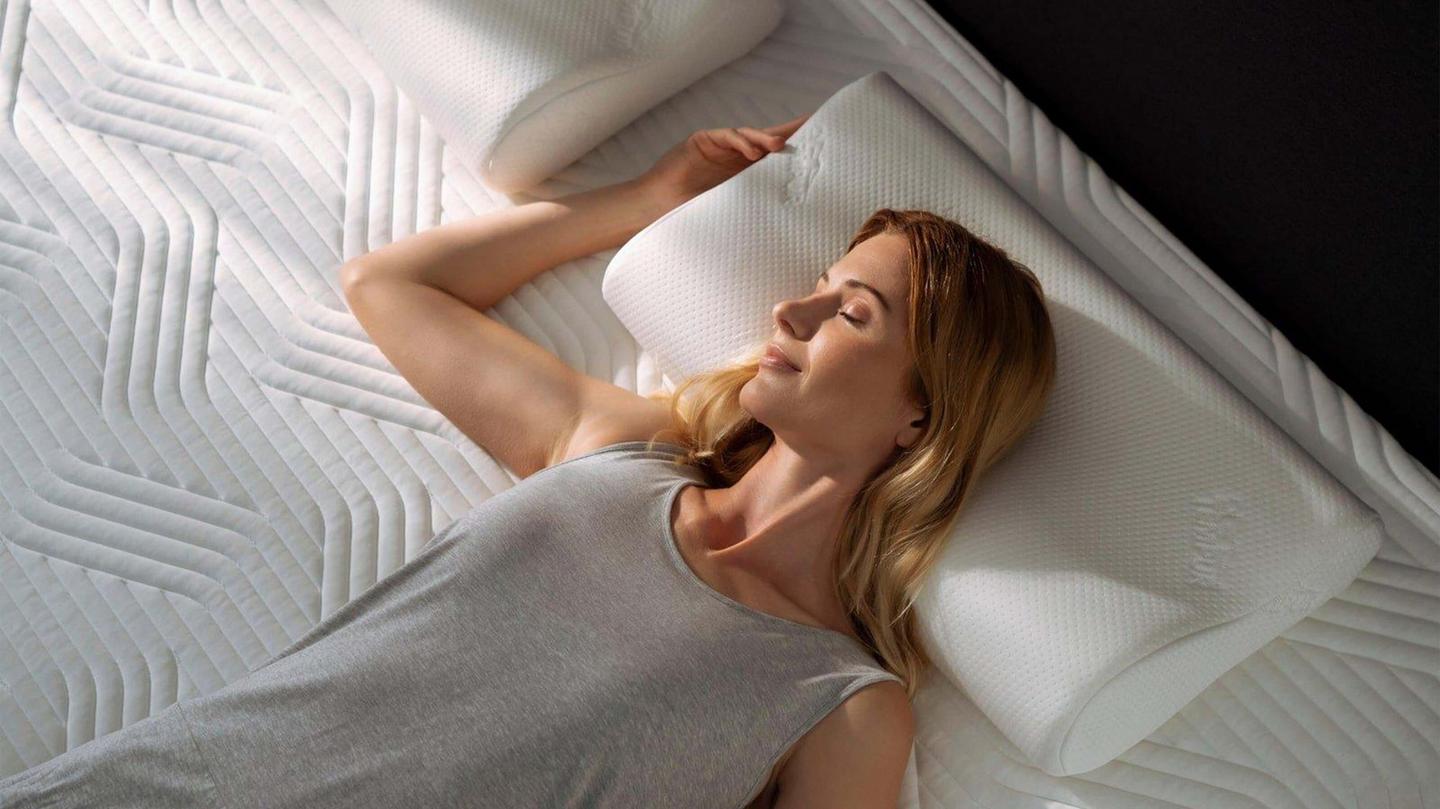 If you do have trouble sleeping, it is really important to have a healthy sleeping environment and for me the pillow is particularly key in helping me get comfortable. I like a firm pillow and generally sleep on my side, so I need support for my neck and head, if I am faced with a flat pillow in a hotel I will toss and turn and just not sleep. I love that Tempur have a pillow shape for every different way you like to sleep, they even have one you can hug if you sleep on your stomach. The unique star shape of the TEMPUR® Ombracio [allows you to hug your pillow in comfort by lifting the upper body into a straighter position alleviating strain on the neck and back. How cute, a pillow to cuddle!
When it comes to sleep, there are some healthy rituals that you should try and include in your life regularly, here's some tips.
Write down things that are on your mind, this can stop them going over and over in your head when your head hits the pillow. It's an idea to keep a notebook by your bed if you still feel like there is an issue that is keeping you awake, switch the light on and just get it out of your head.
Whilst it has become popular to take cold showers in the morning, they will not have the most relaxing effect if you do this at night. Night-time should be a warm bath or shower, pop some lavender essential oil in your bath or magnesium salts, this will help relax your mind and body. It will also help the body's temperature cool down when you get into bed, we know how hard it is to sleep when you feel hot and sticky in bed. Sinking into a Tempur mattress has got to be one of the most comforting feelings, the cells instantly respond to your body's shape, weight and warmth, precisely adapting and aligning to every inch of you. Its proven pressure relief gives your body total comfort and support, helping you to drift off faster. It can also help to reduce your tossing and turning.
You might find it hard to put your phone in another room and just stop looking at it, but that blue light really stimulates you to stay awake, so unless you turn your phone settings to night mode or get some red lens glasses that block blue light, your phone IS keeping you awake.
Do some stretching or yin yoga, which has restorative poses you hold for around 5 mins each giving the body a chance to relax, and your mind unwind from the day. Long deep breaths are so good for you, it's really worth looking into a breathwork class or you can find some online, slow breathing is what usually helps me get to sleep. You can even do some stretching in bed so you can drift off without moving anywhere. The Tempur Ergonomic Pillow is perfect for lying on your back or side and can really support your neck and shoulders so you can rest on your back to listen to your Calm app or whatever helps you drift off and wake up feeling so well- rested.
There are some more simple changes you can make to improve your sleep, eating earlier in the evening gives your body time to digest, just try it, I aim to eat my evening meal by 7.30pm and don't eat after then, also limiting liquid intake so you are interrupting your sleep with trips to the bathroom. Getting into a routine of sleeping and getting up at the same time will help, it means a weekend lie-in is not a great idea, sorry! Getting your body out into natural daylight when you wake up in the morning for around 30 mins will get your serotonin levels going, peak time for this is between 9-11am. Supplementing with Vitamin D will also help boost serotonin too, we are usually lacking in this vitamin, and you should take it in the morning to help with your sleep too. Your body will want to start its wind down process around 9pm with melatonin production at its highest, this is when you should pop on your red-light glasses to block out light stimulating your brain to stay awake. Don't fight it, if you feel tired take yourself to bed, that next episode will still be there for you the next night.
For more information on the sleep inducing Tempur range of pillows and mattresses check out their site and please check in with yourself to make rest and relaxation an important part of your life.
*This is a sponsored post, paid for by TEMPUR. I have received payment for the post & a pillow as a press gift.
All words and opinions are my own.

---